Reduce Dental Costs By Starting Before the 1st Birthday
The Journal of Pediatrics showed that the dental costs for children who have their first dental visit before their first birthday are 40 percent lower in the first five years than for those who do not see a dentist before the age of one 1.  At Growing Smiles in Floral Vale we advocate early preventive dental care. Ideally an initial visit should occur 6 months after the first tooth erupts or by their first  birthday 2. During an initial visit we will complete a dental exam, cleaning, fluoride treatment, give guidance on your child's dental development, and most importantly form a warm caring relationship with you and your child.
Overcome Dental Phobias With Regular Visits
We understand that a 1 year-old may not be very cooperative at the dentist, especially at the first visit. With your assistance and the help of our wonderful staff, we will examine your child while they sit on your lap. It is absolutely normal for children (and sometimes parents) to feel some anxiety during their first visit, so please do not be alarmed. Over time, it is incredible to see how our patients' fears subside and they become extremely comfortable in our office.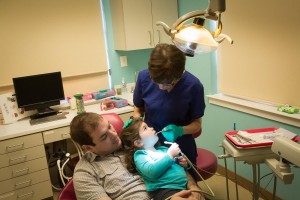 Fluoride Toothpaste For Toddlers?
After the initial visit, regular check-ups should occur every six months. Until this first visit to our office you can use a wet washcloth to wipe the gums, lips, and tongue after every feeding.  As soon as the first tooth erupts (typically the lower incisors), you will want to start brushing with a "smear" or "rice sized" amount of kid's fluoride toothpaste after breakfast and before bed. Do not worry if your child swallows the toothpaste this amount is safe (I will cover the importance of Fluoride Toothpaste in another blog) and the daily use of Fluoride Toothpaste can reduce your child's risk of tooth decay up to 30 % 3.
References
1. Savage MF, Lee JY, Kotch JB, Vann WF, Jr. Early preventive dental visits: effects on subsequent utilization and costs. Pediatrics 2004;114(4):e418-23.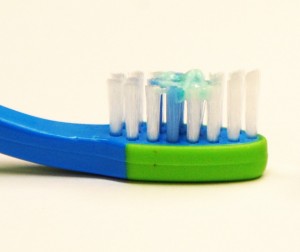 2. Nowak AJ, Casamassimo PS. The dental home: A primary oral health concept. J Am Dent Assoc 2002;133 (1):93-8.
3. Santos APP, Nadanovsky P, Oliveira BH. A systematic review and meta-analysis of the effects of fluoride tooth- paste on the prevention of dental caries in the primary dentition of preschool children. Community Dent Oral Epidemiol 2013;41(1):1-12