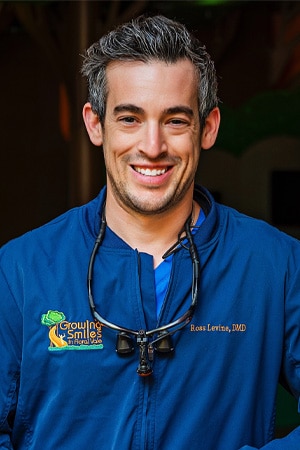 Dr. Ross Levine is a board certified pediatric dentist and has been honored by both The Bucks County Courier Times and Philadelphia Magazine as a Top Pediatric Dentist in Bucks County. The son of Dr. Sheryl Radin (Pediatric Dentist) and Dr. Robert Levine (Periodontist), Dr. Levine has been immersed in the dental community from an early age.
Education & Training
Growing up in Bucks County and a graduate of Council Rock High School North, Dr. Levine would spend his summers in high school and college scheduling appointments, sterilizing dental instruments, and assisting the Pediatric Dental Residents at Episcopal Hospital.
Following his graduation from Council Rock, Dr. Levine attended the University of Maryland, College Park where he received his Bachelor of Science degree in Psychology. After Maryland, he continued his education at Temple University's Kornberg School of Dentistry in Philadelphia where he earned his Doctor of Dental Medicine degree, graduating Magna Cum Laude.
Dr. Ross Levine received his specialty-training certificate from Temple University Episcopal Hospital's Pediatric Dental Residency Program. He was selected as Chief Resident during his second year. Dr. Levine is a specialist in sedation dentistry, advanced behavior management, anesthesia, trauma, laser frenectomies, and the oral health care needs of the special needs patient.
Professional Distinctions, Associations & Service
Dr. Ross Levine is dedicated not only to the children's dental care in private practice but also to the underserved. He has provided dental care and education to hundreds of children in Lima Peru. He led a team of dental students and dentists along with his parents Dr. Sheryl Radin and Dr. Robert Levine through the Growing Smiles Foundation, a non-profit founded by his sister, Dr. Bari Levine.
Dr. Ross Levine is a member of the American Dental Association, American Academy of Pediatric Dentistry, American Board of Pediatric Dentistry, American Laser Study Club, and International Affiliation of Tongue-Tie Professionals. Dr. Levine continues to stay current on all the latest technologies and state-of-the-art dental care.
Family Life
Dr. Ross and his wife Abby welcomed their son Noah in January of 2018 and Twins Lily and Logan in March of 2020. In his free time, he loves playing hockey, softball, tennis, skiing, and following his favorite sports teams. He also enjoys spending time with his family and friends in the suburbs of Bucks County, Philadelphia, New York, and New Jersey.