The Family Experience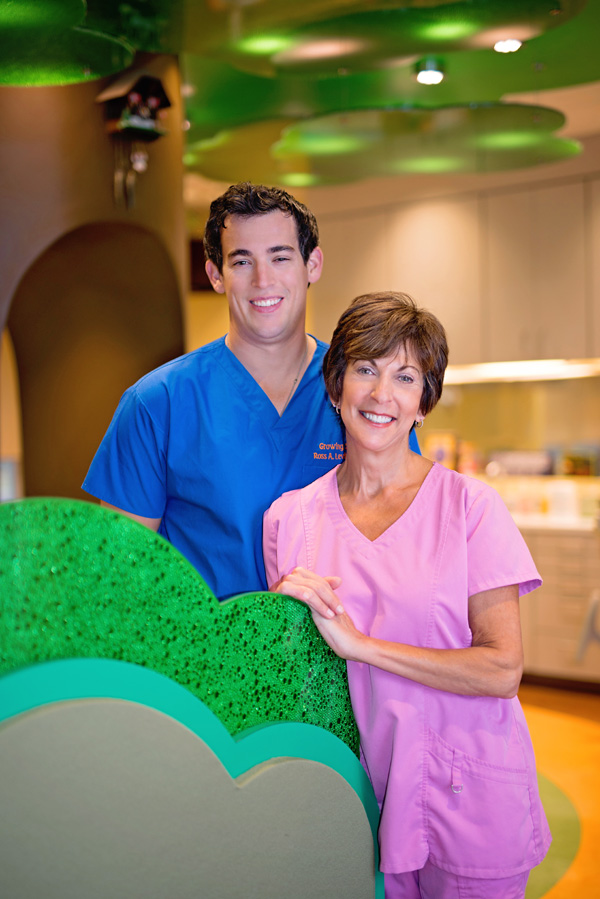 Growing Smiles in Floral Vale is very unique as it is a mother and son pediatric dental team!. Their combined dental experience is unmatched in Bucks County, PA. Growing Smiles in Floral Vale offers a variety of dental procedures that incorporate leading, technically advanced equipment on a daily basis.
The office specializes in preventative dental care to start healthy dental habits from a young age, and will teach you and your child proper brushing, flossing and eating habits. Drs. Radin and Levine strongly advocate the use of sealants and fluoride to help prevent dental decay.
Oral sedation
Dr. Radin and Dr. Levine are experts in oral sedation exclusively for children. This is a specialty that few pediatric dentists offer to their patients. Oral sedation is commonly used in pediatric dentistry for children with dental phobias, low pain tolerance, severe anxiety, major dental treatment, physical handicaps or strong gag reflexes.
Laughing Gas for Kids
We also recommend nitrous oxide, or "laughing gas," to help calm the anxious child. It is a mild sedative and patients are conscious and can talk during their dental visit. Nitrous oxide is extremely safe in the dental setting and is used routinely for many dental procedures. Nitrous oxide rarely has side effects and is used routinely for many dental procedures.
Pain Free Dentistry is our goal!
Dental Radiographs
At Growing Smiles in Floral Vale we are very sensitive to the amount of radiation your child receives. The use of state-of-the-art digital x-rays reduces radiation exposure and eliminates the use of chemical processors, thereby reducing our impact on the environment.
We also use an intra-oral camera that projects images onto a digital screen to provide you with a more clear and concise view of your child's oral condition.
Zirconia Crowns
For baby teeth that are severely broken down due to dental decay, Dr. Radin and Dr. Levine are trained in the use of zirconia crowns, which are the most esthetically pleasing of all crowns in pediatric dentistry. Zirconia crowns are an all-ceramic crown that can be placed on primary teeth in the front or back of the mouth. The procedure is more technique sensitive than silver or coated crowns, thus these beautiful ceramics cannot be used successfully on every tooth requiring a crown. Dr. Radin and Dr. Levine will be happy to discuss with you to decide if your child is a good candidate for this type of crown.
Dental Sealants
Dental sealants are a plastic BPA-Free resin that bonds into the depressions and grooves (pits and fissures) of the chewing surfaces on the back teeth, acting as a barrier to protect enamel from plaque and acids.
Thorough brushing and flossing are the best way to remove food particles and plaque from smooth surfaces of teeth. But toothbrush bristles cannot reach all the way into the depressions and grooves to extract food and plaque. Sealants protect these vulnerable areas by 'sealing out' plaque and food.
The likelihood of developing pit and fissure decay begins early in life, so children and teenagers are obvious candidates.
The application of a sealant is quick and comfortable. It only takes one visit. The tooth is first cleaned, then conditioned and dried. The sealant is then flowed into the grooves of the tooth and hardened with a special light. Your child will be able to eat and drink right after the appointment.