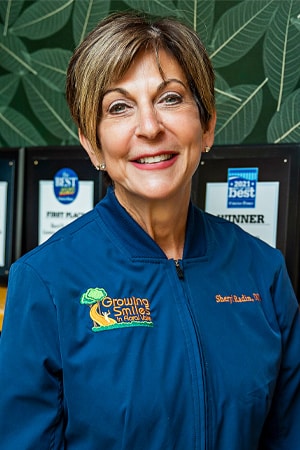 Dr. Sheryl Radin has been practicing dentistry for over 35 years and has a strong commitment to excellence in her field. Dr. Radin completed an additional two years of specialty training beyond dental school in order to specialize in treating infants, children and teens. Philadelphia Magazine has also honored Dr. Radin as a Top Pediatric Dentist in Bucks County.
For children that require more complex dental visits or children that are extremely nervous or anxious, Dr. Radin has earned a specific license that enables her to safely administer oral sedations and nitrous oxide. Dr. Radin is dedicated to having all of her patients look forward to visiting the dentist. You will often find her patients at ease with her personal touch, charisma and warm personality. Her state-of-the-art dental office was recently renovated using multiple environmental friendly materials and is architecturally unique.
Education & Training
Dr. Radin graduated from Temple University School of Electrical Engineering Technology in 1978 and soon after graduated from Temple University School of Dentistry in 1982. She started her career as a general family dentist, then realized treating children was her passion and returned to school to specialize in pediatric dentistry.
Dr. Radin completed her residency in Pediatric Dentistry from Episcopal Hospital in Philadelphia, where she was Chief Resident. She received her Certificate in Pediatric Dentistry in 1997.
Dr. Radin is a member of the American Dental Association, Pennsylvania Dental Association and the American Academy of Pediatric Dentistry. In addition, Dr. Radin is involved in the Northeast Philadelphia Dental Implant Study Club, the Greater Philadelphia Dental Hygiene Study Club and the Eastern Dental Study Club.
Community Involvement
Involvement in the local community is very important to Dr. Radin. She is the school dentist for the Pennsbury School District and completes yearly examinations for the students in various schools. She also proudly sponsors the Tooth Buddy Tales, a professional educational Puppet Show that is enjoyed by thousands of children throughout Bucks County, PA and Mercer County, NJ.
Dr. Sheryl Radin is actively involved with the Growing Smiles Foundation, a non-profit organization her daughter started that provides comprehensive dental care to children outside of Lima, Peru. She is also helping Dr. Bari Levine replicate a similar outreach program for children in Philadelphia schools.
Outside The Office
Dr. Radin resides in Bucks County, PA with her husband Dr. Robert A. Levine, a renowned and respected implant surgeon and periodontist in Northeast Philadelphia. Dr. Radin is proud to work with her two children who are also pediatric dentists, Dr. Ross Levine and Dr. Bari Levine. Dr. Radin's passions outside of dentistry are hiking, cooking, and exercising.