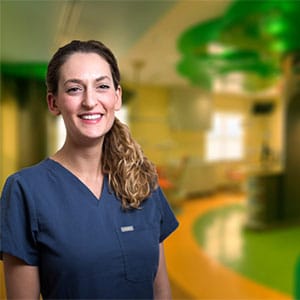 Dr. Bari Levine, MPH, is a pediatric dentist and is thrilled to join the Growing Smiles in Floral Vale family.
She is specially trained, like her family members, mother Dr. Sheryl Radin and brother, Dr. Ross Levine in sedation dentistry, trauma, advanced behavior management techniques, and treating special needs patients. She is skilled in helping even the most anxious child feel at home at the dentist.
Education & Training
Dr. Bari graduated from Temple University Hospital's pediatric dentistry residency program in 2018, where her mother, Dr. Sheryl Radin and brother, Dr. Ross Levine trained. Dr. Bari went to Council Rock North and attended the University of Maryland, College Park with a degree in Environmental Science and Policy (2009). After graduation, she worked in the private business sector at UBS Investment Bank in London, UK and TerraCycle in Trenton, NJ before attending Temple University's Kornberg School of Dentistry. At Temple, Bari earned a Masters in Public Health simultaneously with her degree in dental medicine, where she graduated Summa Cum Laude (2016).
Dr. Bari Levine is a member of the American Academy of Pediatric Dentistry, the American Dental Association, and the dental fraternity Alpha Omega.
Growing Smiles Foundation
Dr. Bari is the CEO and founder of the Growing Smiles Foundation, a dental non-profit organization she started with her family, dedicated to improving the oral health and overall health of underserved children in Peru (www.growingsmilesfoundation.com). Bari first traveled to Peru in 2012 to visit an orphanage, where she immediately noticed the desperate need for oral health education and dental care. That initial visit catalyzed her vision to provide free, comprehensive dental care to these underserved children. She has since returned to Lima every year with a team to provide dental care and education. To-date, their team of local dental students and faculty from both Temple and UPC (a local dental school in Lima) has provided over $600,000 in free dental care. Currently, Dr. Bari is working with a team, including her mother, to replicate a similar outreach program in Philadelphia schools.
Dr. Bari discusses the Peru initiative in the video below:
To learn more about the Foundation, click here!
Family Life
Dr. Bari Levine and her husband, Dr. Yair Lev (a cardiologist) live in Philadelphia and they celebrated the birth of their daughter, Aviv in June 2018. In her free time, Bari loves to travel to new places, eat delicious foods, cook a wide range of dishes, play the flute and spend time with her friends and family.